I pray the Rosary because it does me good because it is a traditional contemplative prayer in which we remember the life of Jesus Christ and the Virgin Mary's role as God's mother.
Anglicanism is understood as a middle way between Catholicism and Protestantism. It is a Catholic, Apostolic and Reformed church.
Catholic because it began with Jesus Christ being a legitimate heir to the Universal Church's traditions, which have always been believed in all times and places.
Apostolic because it is a church structured through three degrees: the episcopate, the presbyterate and the diaconate, which receive an uninterrupted sacramental ordination that goes back to the first apostles who were present at Pentecost when they welcomed the Holy Spirit.
Reformed because it is a church that originated in England combining Catholic elements with elements of the Reformation.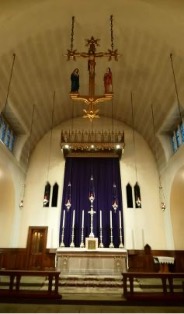 Our parish of St. James' is an Anglican-Catholic church where we emphasize the Catholic elements of the Anglican faith.
As Anglican-Catholics we venerate the Virgin Mary, and for this reason, we pray the Rosary.
Join us on the last Friday of each month at 6 pm on Zoom, to pray the Rosary and entrust ourselves to God.
José Luis Aranda Moyano
https://stjames.bc.ca/wp-content/uploads/2021/04/this-one-PM.png
1208
2404
Office
https://stjames.bc.ca/wp-content/uploads/2016/09/stjames-logo-gold-sm2-min.png
Office
2021-04-16 14:53:05
2021-04-16 14:53:05
Why do I pray the Rosary if I am an Anglican?